Construction Updates
St. Francis is going to look pretty different for the next few months! We began construction on an addition to our main building on Tuesday, October 17th. Because we will be without all of our exam rooms, we will be shifting some of our appointments over to St. Francis Integrative Services, which is located just west of our main building at 1235 Larpenteur Ave W. Parking is available both in front of and behind St. Francis Integrative Services. We will be sure to let you know when you schedule your appointment and when we give you a reminder text or call where you need to go. If you are not sure which building your pet is being seen at, please give us a call at 651-645-2808 or text us via the Pet Desk app and we'll be happy to let you know!
Because we will have a dumpster occupying our current handicapped parking space temporarily, please inform staff if you would normally use this space so we can find alternate accomodations to get you safely and comfortably into the building.
Important information for patients being seen in the next week:
Significant demolition will be taking place from Saturday, October 21st through Thursday, October 26th and clients will not be able to access the lobby of the main building. Please go to St. Francis Integrative Services for all doctor appointments, technician appointments, medication pickups, and food pickups.
If you need a medication refill or a prescription food refill for your pet in the next week, please give us 48 hours notice if possible. If you walk in for a refill of a prescription/food in the next week, it will take us much longer than usual to fill. Thank you for your patience and understanding!
If your pet is scheduled for a surgical or dental procedure on Tuesday 10/24, Wednesday 10/25, or Thursday 10/26: These procedures will be performed at the main St. Francis location. Please follow the instructions provided to you by the surgical team regarding the check in process/procedures when they call with pre-surgical reminders. You will not be able to enter the building with your pet.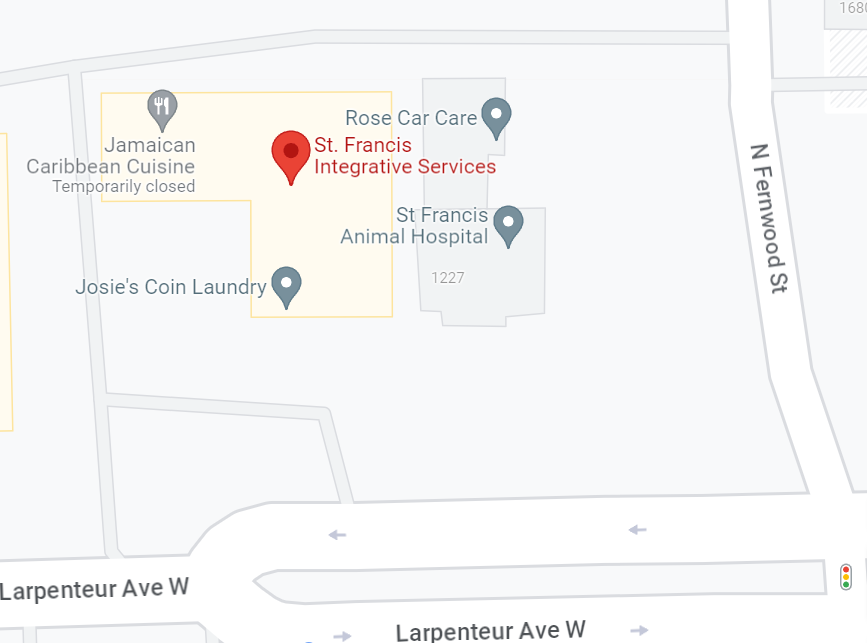 Thank you for your patience and understanding during this chaotic period! We are excited to have a better space to serve you and your pet soon!
Happy Veterinary Technician Week!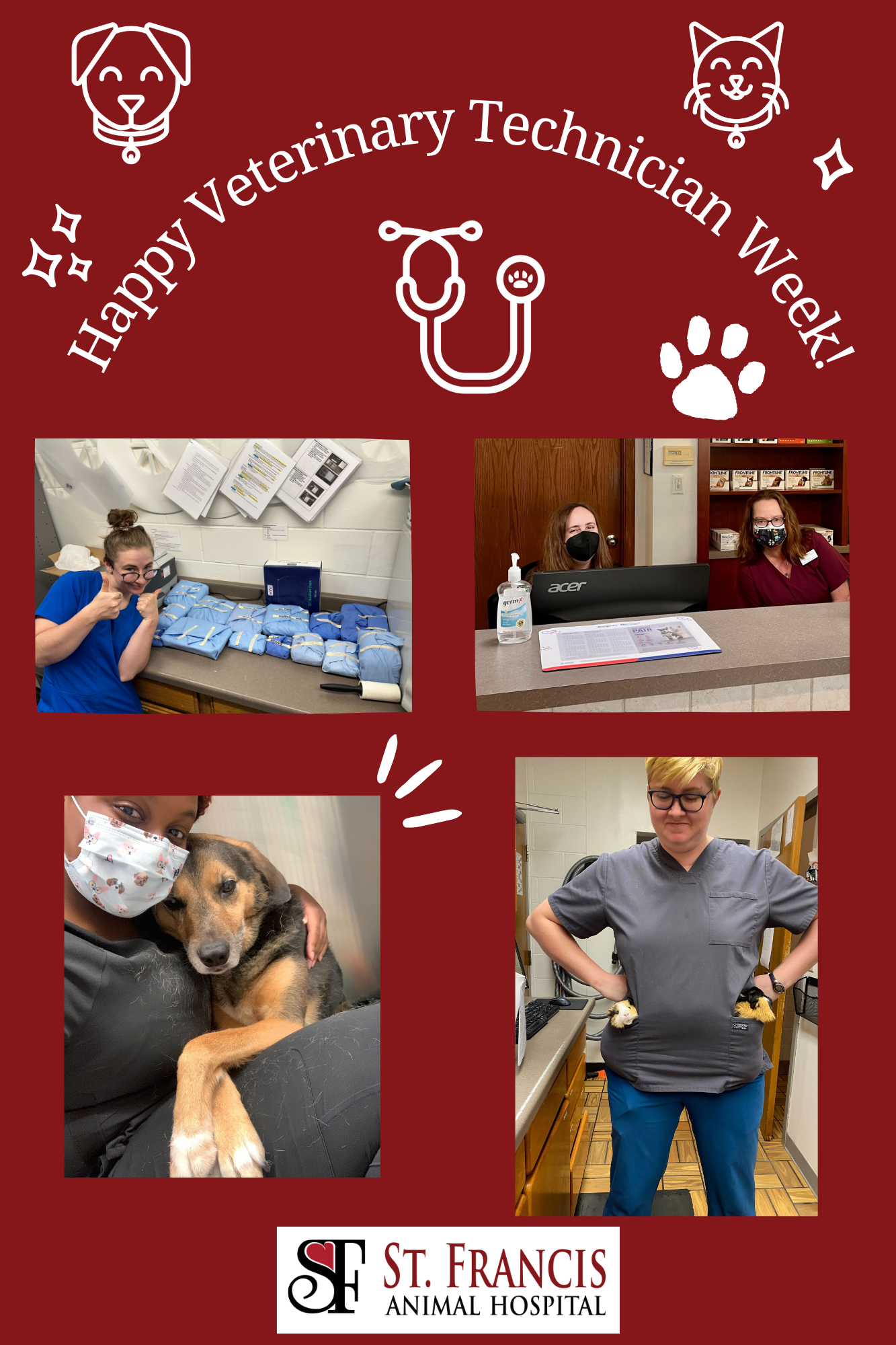 The third week of October is when the veterinary profession recognizes the significant contributions that veterinary technicians provide to the animals and people that they serve. At St. Francis, we choose to celebrate all of our support staff this week. This includes veterinary technicians, veterinary assistants, kennel assistants, customer service representatives, and our practice manager. Without these essential team members, our veterinarians would not be able to do their jobs. Support staff work incredibly hard and don't often get recognition for the important roles they play in providing veterinary services. If you are in the clinic this week, take a moment to say thank you to all of these staff members!
Congratulations, Debranique!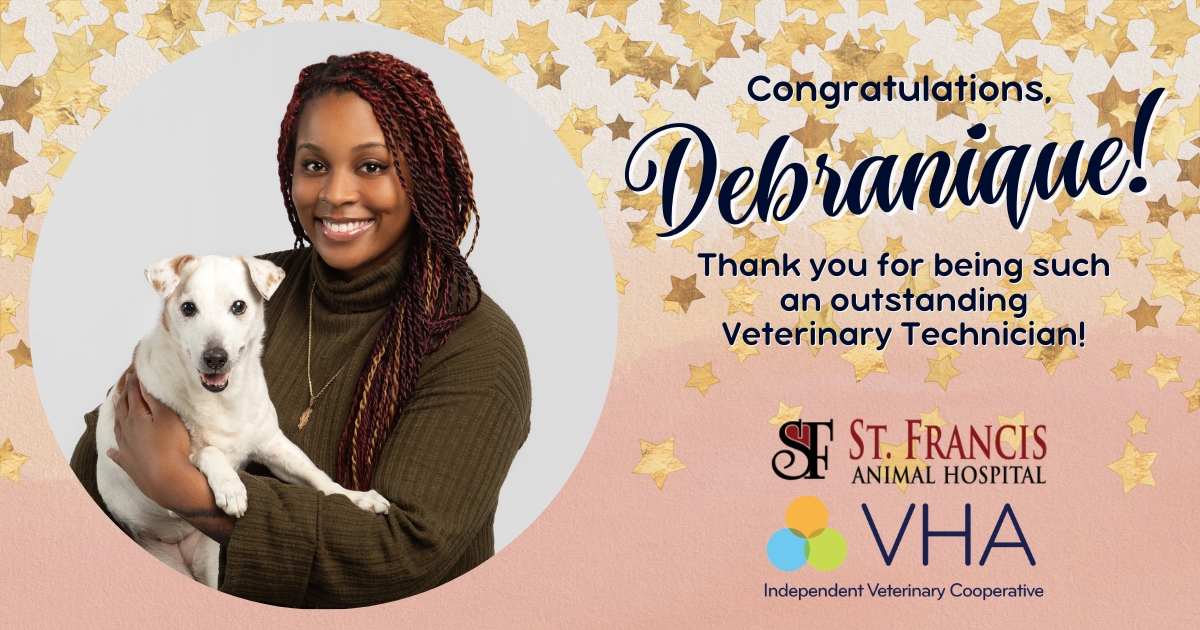 One of our veterinary assistants who is now a veterinary technician-in-training received the honor of being one of the Veterinary Hospital Association's Outstanding Technicians this week! Debranique has been one of the favorite assistants of many clients and patients, and we are thrilled that she is expanding her role into that of a veterinary technician. We know how amazing Deb is, and we love seeing her accomplishments recognized beyond our clinic!
Happy Fall!
St Francis Animal Hospital