Construction Updates
We are getting close to breaking ground on construction! Beginning in early October, St. Francis will be under construction as we build an addition and renovate our exam room spaces. Because we will not have all of our exam rooms available to use during construction, we plan to shift some of our appointments over to St. Francis Integrative Services. We will let you know which location to bring your pet when you schedule your appointment and when we send out appointment reminders. 
St. Francis Integratave Services is located at 1235 Larpenteur Ave W, just west of the main St. Francis building. To get to St. Francis Integrative Services from our main building, take a right onto Fernwood St. from our parking lot. At the stoplight, turn right onto Larpenteur Avenue, and then take the first or second right into the small strip mall. Integrative Services is located next to Jamaican Caribbean Cuisine. Parking spots are available both in front of and behind St. Francis Integrative Services.
During construction, we may not have our regular handicap-accessible parking spots available for use. If you need any accommodations for parking and/or for accessing our building, please let us know when you schedule your appointment so we can be sure to have staff available to assist you.
Because Integrative Services does not have full hospital services such as anesthesia and x-rays, there is a chance that pets who are examined at Integrative Services may need to be transported to the main building if they need more advanced procedures. If your pet needs to be transferred to the main building, please drive them from Integrative Service to St. Francis. Our usual sidewalk and side yard will be an active construction area and will not be safe for walking or carrying pets.
Thank you for your flexibility and understanding! We are so excited that we'll soon have a bigger and better space to serve you and your pets!
Canine Influenza Vaccines Are Available!
Canine Influenza Virus (CIV) arrived in Minnesota this year, and we now advise vaccination with CIV vaccine for any dogs who will be coming into regular contact with other dogs. This includes dogs who attend boarding or daycare, training classes, agility trials, and dog shows. We especially recommend this vaccine for puppies and for geriatric patients, who are more likely to develop severe disease when infected with CIV. This vaccine is given as an initial dose, followed by a booster 3-4 weeks later. If you would like to schedule a visit for a CIV vaccine, please contact us via PetDesk or at 651-645-2808.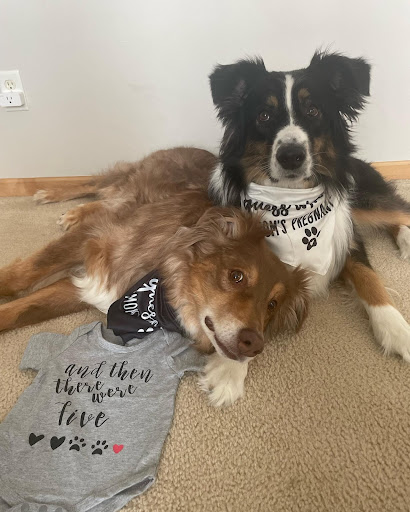 Congratulations to Dr. Lewis and Family!
Congratulations are in order! Dr. Lewis and her spouse Jake welcomed their beautiful baby girl, Mallory Mae, on September 22nd. Mom and baby are both doing well. Dr. Lewis will be out on leave for the next several months for family bonding. We are happy to pass along any congratulations!
Upcoming Closures
Thursday, September 28th: Early Closure (3 pm)
Happy Fall!
St Francis Animal Hospital